Refrigerator Repair and Freezer Repair ~ Portland, OR
Does your refrigerator or freezer need repairing or servicing? Call today to schedule a refrigerator or freezer repair appointment, (503) 762-1427.
If you are concerned about your refrigerator or freezer, you shouldn't hesitate to call a repairman! Food needs to be stored at a safe, consistent temperature, and if your refrigerator can't do that, you risk eating food that could make you ill. Or, if your refrigerator or freezer conks out at an inopportune time, you risk losing hundreds of dollars worth of food that will go bad.
We've been in business in the Portland area since 2010, repairing all major appliances, including refrigerators. We're licensed, bonded, and insured. We carry a vast selection of parts in our service vans, which means that we can complete most appliance repairs in a single visit.
We repair and service all types of refrigerators, including: side-by-side, bottom freezer, built-in, and smart refrigerators.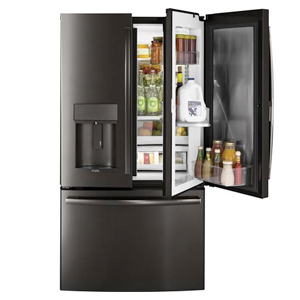 These are the most common signs that your refrigerator needs repairing or servicing:
refrigerator stops running
refrigerator isn't getting cold enough
refrigerator is getting too cold
adjusting the cooling controls in the refrigerator doesn't make a difference
refrigerator isn't properly dispensing water and ice
refrigerator door isn't closing properly
excessive condensation is building up inside or outside the refrigerator
food seems to be going bad more quickly than usual
refrigerator is constantly humming or buzzing
lights aren't coming on inside the refrigerator
the back of the refrigerator seems hot
your electricity bill has shot up
refrigerator is making a loud noise
water is pooling up below the refrigerator
the seals on the refrigerator door aren't keeping it tightly closed
error codes
We also repair and service most types of freezers, including: chest freezers, drawer freezers, and upright freezers.
These are the most common signs that your refrigerator needs repairing or servicing:
freezer isn't working
frost is building up inside the freezer
food is thawing
ice maker isn't working
the seals on the freezer door aren't keeping it tightly closed
We repair and service most major brands of refrigerators and freezers, including:
GE refrigerators / General Electric refrigerators
Whirlpool refrigerators
Kenmore refrigerators / Sears refrigerators
KitchenAid refrigerators
Maytag refrigerators
Amana refrigerators
Jenn-Air refrigerators
Frigidaire refrigerators / Electrolux refrigerators
White-Westinghouse refrigerators
Is it time to replace your refrigerator, rather than repair it? Refrigerators are expensive! Before you decide to send your old refrigerator to the landfill, give us a call. There is a good chance that we can repair your refrigerator for a reasonable price, no matter how old it is.
For more information about refrigerator repairs, or to schedule an appointment for service, please call (503) 762-1427 or e-mail service@alltechappliance.com. You can also fill out our appliance repair appointment scheduling form.
Please note: In addition to providing freezer and refrigerator repair services, we also take care of: washer repairs, dryer repairs, dishwasher repairs, oven, stove, range, and cooktop repairs, microwave repairs, and trash compactor repairs. We service the entire Portland metro area.
Service Built On Trust
We believe in running an honest service business that values your time and only recommends repairs when they are necessary. By being trustworthy, we hope to establish a long term business in the Portland area that will serve our local community, our family and our customers.
Schedule your service online or call 503-762-1427 to speak with one of our technicians about your refrigerator repair needs. We are licensed, bonded, and insured for your protection.
When looking for expert refrigerator repair, don't simply go with the lowest price repair, go with the one you can trust to get the job done correctly and will treat you and your appliance with respect.