Dishwasher Repair ~ Portland, OR
Does your dishwasher need repairing or servicing? Call today to schedule a dishwasher repair appointment, (503) 762-1427.
If your dishwasher stops working, it is obvious that it is time to call a repairman. But if your dishes don't seem to be getting clean, that situation can be just as urgent as you don't want to get sick from using plates, glasses, and silverware that aren't 100% clean. Or, if you have a small leak, that could turn into a huge problem if it floods your kitchen. If you suspect something is wrong with your dishwasher, even if it seems minor, give us a call!
We offer residential appliance repair services, including dishwasher repairs, throughout the Portland area. Our service vans have an extensive inventory of parts, which means that we can complete most appliance repairs in a single visit.
We have been in business since 2010, and we are committed to arriving on time, charging fair prices, and providing quality repairs. You can rest easy knowing that we are licensed, bonded, and insured.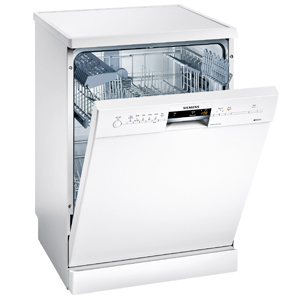 These are the most common signs that your dishwasher needs repairing or servicing:
dishwasher has stopped working
glasses are coming out cloudy
dishwasher cycles seem to run too long
water is leaking out of the dishwasher
water remains standing in the bottom of the dishwasher
dishwasher is making strange noises
dishwasher turns itself off
dishes don't seem clean when they come out of the dishwasher
dishwasher isn't filling with water
dishes aren't coming out hot immediately after the cycle is completed
flakes of rust appear below the dishwasher
dishwasher door isn't latching properly
dishwasher is making a humming noise that is louder than usual
there are no lights on the front display panel
nothing happens when buttons on the display panel are pushed
water isn't getting to the dishwasher
error codes
We repair and service most major brands of dishwashers, including:
Bosch dishwashers / Thermador dishwashers
KitchenAid dishwashers
Maytag dishwashers
GE dishwashers / General Electric dishwashers
Whirlpool dishwashers
Samsung dishwashers
Kenmore dishwashers / Sears dishwashers
Frigidaire dishwashers / Electrolux dishwashers
Fisher & Paykel dishwashers
Jenn-Air dishwashers
Sometimes, you are better off replacing your dishwasher than repairing it. But what you might think is a major problem could be a minor fix, and visa versa. There is no need to guess as to what you should pay for your service call, we can give you an estimate for repairs.
For more information about dishwasher repairs, or to schedule an appointment for service, please call (503) 762-1427 or e-mail service@alltechappliance.com. You can also fill out our appliance repair appointment scheduling form.
Please note: In addition to providing dishwasher repair services, we also take care of: washer repairs, dryer repairs, refrigerator repairs, oven, stove, range, and cooktop repairs, microwave repairs, and trash compactor repairs. We service the entire Portland metro area.